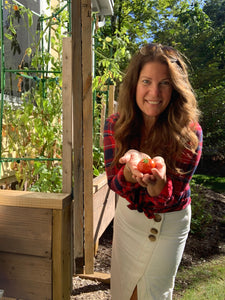 Garden Fresh - Gourmet Inspired Meals in Minutes
I love cooking with fresh ingredients. Any opportunity I have to incorporate herbs and fresh vegetables from my home garden, it's a win.

When Im not crafting or mixing cocktails for the bar or developing our dining menu by the season or curating items at our boutique or creating our own collection of branded barware and cocktail glassware  - at Coastal Society™, you'll find me most days dreaming up some gourmet inspired meals to serve my family.
I am a minimalist by nature (from designing the interior of a home, to styling a wardrobe collection, to cooking) but a minimalistic approach doesn't mean sacrificing taste, flavors or incredible impactful design! This reaches the same approach when it comes to my cooking; I pack a whole lot of fresh, simple yet creative layers of flavor into every dish I create. 
If you've followed us (Coastal Society™) for awhile, you know we live along the beautiful coast of Lake Michigan.  Yes, we are blessed with nature and the fresh outdoors in abundance and we work hard to never take it for granted. From the rolling hills, sea grass and dunes, to the west coast inspired bluffs that overlook the vast coast that graces us along the lakeshore. We've got a pretty special piece of earth in these parts.
Along with the beauty that surrounds us we also have seasonal temperatures that somehow truly mimic the most profound European coastlines in the world (France, Italy, Greece and Spain) and those seasonal temps it tends to make our soil and climate a prime place for producing lush crop of fruits and veggies and fabulous soil and climates for growing grapes. 
Thats why there are so many reasons I get super pumped about cooking at home, because when you've got this much fresh grown goodness around you, it's easy to see why choosing to use the freshest, most locally grown ingredients in every meal are worthwhile.  
On any given sunny Saturday or Sunday afternoon (when I'm not hard at work) you'll likely find me exploring a local farmers market or farm stand in search for the freshest immediately picked produce. I love supporting local. Last year during Covid we built our own home garden and started planting fresh herbs and veggies. It's been very rewarding getting our hands dirty, tending to a garden and patiently (yes patiently it takes time) watching the garden grow and flourish as the season builds. 
There is one particular vegetable that I've grown very fond of, the Heirloom tomato. The Heirloom tomato is so plump, juicy, clean and has just the right amount of sweetness and acidity. It's so easy to slice a few into a bowl with cucumbers, basil, salt and pepper and eat as a midday snack. It's a quirky, odd shaped, old charm, vintage fruit/veggie that always seems to remind me of my Italian heritage and cooking passed down recipes like homemade pasta and gravy (aka sauce) in the kitchen with grandma, mom and my aunt (hence the name "heirloom" - passed down from generations). 
Honestly, using fresh clean ingredients inspired from the past or present incorporated into any gourmet inspired home cooked meal, made in minutes is my jam!! And that is why I'm excited to share this recipe with you. It's my version of a mediterranean vegetable garden salad - it celebrates fresh garden packed heirloom tomatoes, yellow wax beans, basil and sage, extra virgin olive oil, ground pepper and pink himalayan sea salt.  Yep it's that easy. Feel free to add in other fabulous vegetables and herbs and play around with olives and crumbled cheese.
As a side note, all of the meals that I create are gourmet inspired and super easy to prepare in one pan and usually only take a few minutes to prep.
So, follow along on my journey as we cook and get inspired by the beautiful recipes I'm curating along the coast, using the freshest ingredients, homemade and prepared in minutes.
 Ingredients
Garden Fresh Heirloom Tomatoes 5 large
Garden Fresh Yellow Wax Beans (25)
Garden Fresh Basil & Sage (medium bunch)
Extra Virgin Olive Oil 
Fresh ground Pepper & Sea Salt 
Red Wine Vinegar (Optional)
Feta Cheese Chunks (Optional)
clean all veggies under warm running water, pat dry. slice Heirloom Tomatoes in quarters, chop wax beans in thirds (bite size), chop fresh garden herbs, place all ingredients in a serving bowl, add fresh pepper and sea salt, drizzle evoo and red wine vinegar (optional) over veggies, toss the ingredients serve - it's that easy and takes minutes to prepare.  Optional: Add crumbled feta cheese, vegan cheese, olives, avocado or fresh berries for even more layers of garden fresh goodness!! 


Suggested Wine Pairings
Salad pairs beautifully with a Spanish Albariño Wine or New Zealand Sauvignon Blanc. A few of my faves are the Naboa or Burgáns Albariño & the Giesen Sauvignon. 
Suggested Protein Pairings
If you're seeking to pair this salad as a side dish to compliment a protein main course then we highly recommend preparing- *Fresh Atlantic Salmon or Grassfed NY Strip Steak or Filet, they all pair perfectly with this salad. However this salad is a fave of mine served solo as the main dish in a light vegetarian style meal setting. I also add a savory *fingerling roasted potato and caramelized onion dish to compliment, for an elevated gourmet meal in minutes.
* Recipes for Salmon & Fingerling Potatoes coming soon to the Blog. 
---